BC Newsletters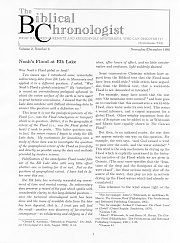 The Biblical Chronologist (ISSN 1081-762X), edited by Gerald Aardsma, a Ph.D. scientist (physics), was published by Aardsma Research & Publishing from 1995 through 2002. Publication was put on indefinite hold in 2003 so Dr. Aardsma could research the cause of pre-Flood longevity full time.
The BC newsletters contain reports of much original research, and they serve as the primary source from which articles for the 'Topics' section of this web site have been abstracted. They enable you to get at the details, learn more, and dig deeper. They were written for a general audience, making them easily understood by the layperson. They report research as it happens---including wrong turns and mistaken theories, but also those hard-won moments when light finally dawns.
To Browse/Purchase
To browse and/or purchase individual back issues, start by selecting the volume/year from the links in the navigation bar at left, under the "Resources" heading. This will display a page of content summaries for the six issues in that volume, from which any issue may be quickly purchased for immediate download.